NEWSLETTER

No.4

Nov-Dec 2004
Adivasi shot at by Forest Officials
There is another incident indicating the anti-adivasi attitude of a section of the forest department, which functions in collaboration with the estate owners and forest mafia.

Everyone is aware that in February this year, the forest department officials forcibly entered into Moolakkad village near Devarshola; and destroyed the houses of a few adivasis in an attempt to evict them from their village, where they have been living for many years. Then in May, another adivasi youth in Theppakkad was shot and injured by the forest department's patrol party, alleging that these adivasi youth were involved in poaching. Adivasi Munnetra Sangam took up both these issues, strongly condemned the incidents and appealed to the police and the district administration to take actions against the culprits.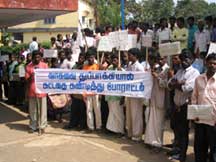 Again on 3rd November, 2004 one more adivasi youth, Vasu of Vadavayal village has been shot and injured, while another adivasi, Kuttan of the same village was arrested and heavily beaten up - on false charges of poaching and smuggling. Representation to the Government did not seem to make any difference. In an attempt to mobilise public opinion against a section of the forest department, which works in close association with political and mafia gangs, AMS decided to organise a protest demonstration in Gudalur on 18th November 2004. Our attempts to get police permission for a peaceful demonstration have failed, but AMS went ahead with the protest to bring the issue to the notice of the general public and government officials.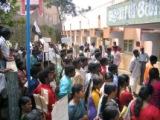 More than 200 people went on a protest demonstration in Gudalur on 18th as planned. The issue was highlighted to the general public in the town. The District Collector had come to Gudalur on that day on a regular visit. This opportunity was used by AMS to give a petition to him and the other revenue officials directly. The authorities have assured the sangam leaders that suitable action will be taken on the forest officials.
| | |
| --- | --- |
| © Copyrights : Adivasi Munnetra Sangam, Gudalur. | |