Newsletter

No.22

Jan - Mar 2009
---
Ponnani Area Centre building inaugurated
On March 29, 2009, the new Area Centre building for Ponnani was inaugurated by AMS. This Rs.600,000 building was constructed in less than 10 months entirely by the adivasi team. As mentioned by a few people at the inauguration ceremony, it is another symbol of what adivasis

can

do if they are given the opportunity, confidence and support. The pride and involvement of the Ponnani Area team and AMS leaders in successfully completing the work, satisfaction of the adivasi masons when they were honoured by leaders, participation of the sangam members in good numbers ... It was a memorable occasion. Given below is a slideshow of the inauguration function. (Please press F5 or the Refresh button in your browser, if you do not see the slideshow properly).


1/13 : The inauguration function started with leaders of all five tribes lighting a lamp - a show of cultural unity.

2/13 : Sangam members of Ponnani area and other areas participated in the inauguration function.

3/13 : All the Ponnani area team members were busy with the entire function - after all, it is their long cherished dream.

4/13 : Jayachandran, member of the Ponnani Area Team explained the costs involved in the construction of the building.

5/13 : AMS Flag was hoisted in front of the new Area Centre Building to clearly demonstrate that it is a building of the Adivasi Munnetra Sangam.

6/13 : The Chief Mason, Sasi was honoured by the Area Leader, Mr. Chemban - a great achievement for someone from the Paniya community!

7/13 : Nice to see old Paniya women also participating in the inauguration function with enthusiasm

8/13 : KTS appreciated the enormous initiative taken by the Ponnani area team, especially Jayachandran in seeing the construction through.

9/13 : The ceremony was another sign of the simplicity that adivasi communities are known for.

10/13 : Many young paniya children came for the function - here sitting in the verandah, like in their own homes

11/13 : All the masons and workers involved in the construction were from the Paniya community like Chenguttuvan here.

12/13 : With a simple meal, the function came to an end. Volunteers cooked food in the centre itself and served food for everyone.

13/13 : More than 300 people participated in the inauguration function, according to Seetha (serving food here).
We take this opportunity to acknowledge the contribution of Anu and Krishna, the architects who spent few years of their time and energy converting unskilled adivasi workers into skilled masons and construction workers. That investment is yielding dividends right now and is inspiring more youth to get into construction work.

A few months ago, Srimadurai area also decided to construct a new building. This building is also coming up fast and has reached the Roof stage right now. The same team of adivasi masons and workers from Ponnani are engaged in this construction as well, apart from some adivasi workers in Srimadurai itself. We hope to complete this construction also in a few months.

Srimadurai Area Centre building under construction
Global Partnership against Social Exclusion
Seven International NGOs have launched a massive programme against Social Exclusion of Adivasis and Dalits in India. This special intervention has been launched with support from Department for International Development (DFID) of the British government. We are very happy to note that two of our institutions, ACCORD and ASHWINI, have been selected as partners in this prestigious programme. While ACCORD is part of the network of fourteen development organisations initiated by Christian Aid under this programme, ASHWINI is a partner in the 14-member network created by Skillshare International.


ACCORD's project with Christian Aid assistance focuses on 'Community Governance and Gaining Control over Local Economy' by the adivasi community. Over the years, the systems and infrastructure at the Area Centre level have been strengthened. The Area Team members and the Area leaders have equipped themselves with skills and knowledge required to manage institutional programmes at the area centre level.

ASHWINI's project with Skillshare support is also along similar lines, albeit focusing on health issues. The objective is to establish a community owned health care system in adivasi villages of Gudalur and Pandalur taluks. The main strategy of this project will be to train over 120 health volunteers already identified and to enhance their capacity.

During the next four years, through both these projects, we plan to decentralise the process of development planning further into village level, by actively involving village volunteers and village sangam leaders.


Forest Rights Act - A Campaign
Last three months have seen a flurry of activities by AMS in its campaign to get the Forest Rights Act implemented. On the one hand, AMS activists are creating an awareness among adivasi community about this Act and the procedures involved in establishing the rights of adivasis over forest resources. Series of meetings were held in all the eight AMS Area Centres and in some cases, at the villages. We have restarted the AMS newsletter '

Chiragu

' in connection with this campaign - although, now it is being designed digitally! The last issue focused entirely on the Forest Rights Act, its various provisions and implications to adivasi community. We are in touch with other organisations in the district and country who are also involved in this campaign. AMS is working closely with Keystone Foundation and WWF India in the district on the implementation of this Act, while experts from Kalpavriksh visited Gudalur to explain the process of preparing the Claim Forms.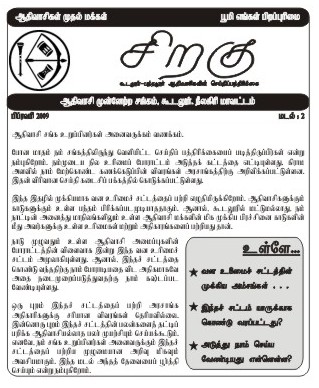 On the other hand, AMS is also involved in educating the Government officials on the need to implement this Act and the procedures involved. A delegation of AMS leaders met the Revenue Divisional Officer in Gudalur and urged him to immediately provide legal sanction to the Forest Rights Committees (FRC) that are being formed in adivasi villages and get the consent of the Panchayats for this. Also, we had to press the Government to redefine the issue around 'Gram Sabha' in the Tamilnadu context and have managed to convince them to consider Revenue Village as the basis for constituting FRCs, rather than Panchayats. Already, FRCs have been formed in 17 Revenue Villages and the details have been forwarded to the Government for their approval. Work is on in the remaining four and AMS hopes to get the process completed soon.

The activists will focus on completing the Individual and Community Rights Claim Forms during the next few months.


Vidyodaya - 8th Exams and NIOS Exams
Results for the 8th standard exams written by seven adivasi children from Vidyodaya school were received with joy and excitement. Not only all of them have passed the exams, some of them have got very good marks. Saranya topped the group with 79%, while Praveen got 75%. Until last year, Vidyodaya had recognition to hold classes only till 5th standard. But, these children continued with the school and appeared for the Government exam as private students. These results show what adivasi children can achieve - even in terms of academic standards set by mainstream educational system - if they are provided with an appropriate learning atmosphere.

Writing this exam itself was an ordeal. They had to travel over 70 kms to reach Coonoor; they stayed at a lodge for one week in that cold place away from home and completed their exams in December last. Surendiran, the head teacher of Vidyodaya school personally took these kids for that exam and ensured that they feel comfortable in the new place and could focus on the exams with confidence.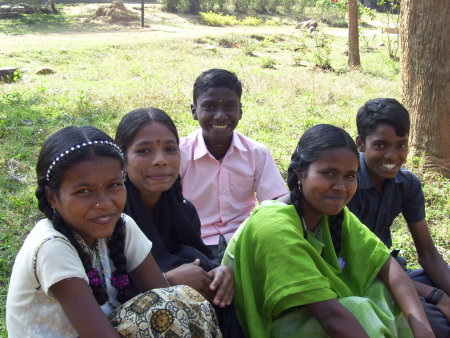 Some of the students who passed the 8th exam


The results have now been very good for at least the last 4 years now, with at least one student getting above 90% in maths or science every year. Vidyodaya now seems to be recognised by the other mainstream high schools in Gudalur as being a 'good' school. However, in our effort to fit these children into mainstream schools, we run the danger of ignoring their achievements in areas that cannot be easily quantified, like for example confidence and their ability to interact with older people from very different backgrounds. Many of the kids who are presently in school as well as those who passed out, though they did not excel in their studies are still important people in their villages. Like Arun Kumar trying to interpret the Tiger Reserve Amendment to the Wildlife protection Act and explain it to his father, or Sudhirajan and Vijimol acting as English translators for the a Survey conducted by the Forest Department after they formed the Eco Development Committee in Chembakolli. Or Maran getting together all the older kids and performing a Mullakurumba dance in Thepakadu in a cultural programme organised by the Forest Department, all without telling any of the teachers in Vidyodaya. The list goes on, and though we don't sit back and try to list all these achievements, we must not forget that this is the more important part of the education children at Vidyodaya receive.

We congratulate the children and the teachers on this success - wish them many more of such achievements in future.

However, the way children write exams may change from now onwards. Children need not go all the way to Coonoor for exams! The school itself can be their Examination Centre. As Vidyodaya has got recognition as a Study Centre under the National Institute of Open Schooling, such 'National' exams can be conducted in our own school. So, from 16th to 21st of March 2009, 20 children from the A and B levels wrote their exams in Vidyodaya School. The question papers were set by Vidyodaya teaches and approved by NIOS. One Special Invigilator was chosen by Vidyodaya and appointed by NIOS to oversee the conduct of exams.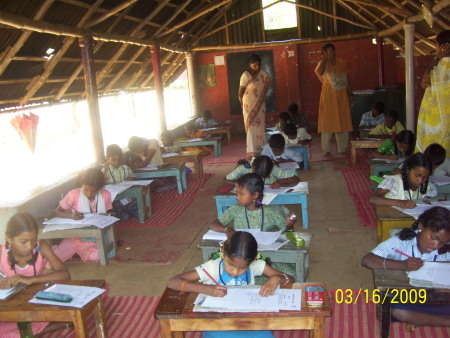 Vidyodaya students writing their 'Public' exams under NIOS


The answer sheets, results and other particulars of the students were immediately sent by post and in a special software written in CD to NIOS, New Delhi. As the systems had all been put in place by the team well in advance, things went smoothly as clockwork. All the teachers and students were excited about this first NIOS exam conducted in Vidyodaya. As mentioned in one of the previous newsletters, this opens up quite a few exciting possibilities on redefining adivasi education and making it culturally relevant. We will explore these opportunities during the coming year.


ASHWINI & National Rural Health Mission
Another important initiative was launched during this period in the health front. ASHWINI got an opportunity to get involved in the monitoring of National Rural Health Mission in the Gudalur region. Government of India launched this ambitious health welfare programme to provide effective health care throughout the country in 2005. The objectives and focus of NRHM are quite progressive and promising:

To increase public spending on health - by ensuring that allocation increases from the current 0.9% of GDP to 2-3% within five years.
To remove the skewed priority given to curative care infrastructure in budget allocation
To integrate issues like sanitation, drinking water, hygiene, nutrition etc. into health portfolio, and to consider investment in this infrastructure as well (without limiting it only to curative care infrastructure)
To ensure community ownership of public health programmes with local planning and action
To revitalise local health tradition like ayurveda
To strengthen primary health centres through an united fund and more multi-purpose workers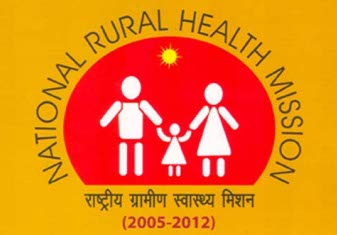 All of these are the stated goals of ASHWINI and the Adivasi Munnetra Sangam as well. ASHWINI is also a rapidly growing institution. Closely studying the service delivery systems of the government will, apart from helping to improve the Government system, provide important insights to our own future direction as well. So, when the RUHSA department of CMC, Vellore approached us with a proposal related to NRHM, it was immediately accepted. This national project is being implemented by Christian Medical Association of India, with funding support from Bill Gates Foundation and active support from the Government of India.

Under this project, ASHWINI has been entrusted with the responsibility of communicating issues around NRHM to adivasi communities in Gudalur region and thereby, create a demand for the health services being offered under NRHM. Special focus will be on monitoring the effectiveness of health services delivered by government institutions, assessing the level of knowledge that people have on NRHM and on devising mechanisms and materials to improve awareness about health services on offer. A small team has been constituted for this purpose within ASHWINI.


Japanese Embassy's support to build Area Centres
We are happy to annouce that the Japanese Consulate in Chennai has awarded a project to construct three Area Centres in Erumadu, Devala and Gudalur. It is heartening to note that ACCORD's project was selected from among many other projects for this award. On February 12, 2009, in a simple ceremony at the office of the Japanese Consulate General in Chennai, the MoU was signed between ACCORD and the Japanese consulate. The total financial assistance to be provided by the Japanese government for this project is $ 87962.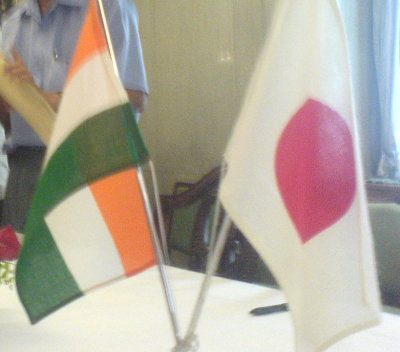 After a series of planning meetings at these three Area Centres to ensure participation of the area teams and the community leaders in the construction, the actual work started in March. Wells are being dug in Erumadu and Devala as a first step and legal formalities are being simultaneously completed with the local government offices. Teams of adivasi workers and masons have been consulted during the last one month and the block-making will start in April.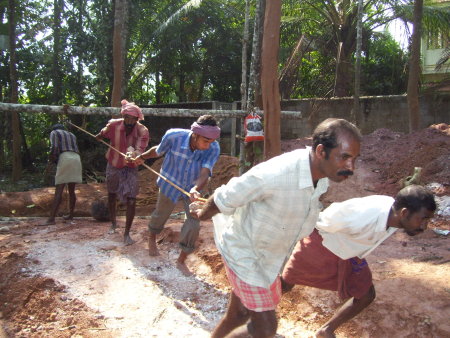 Adivasis from Theyyakuni village constructing the well for Erumadu Area Centre


During the last five years, ACCORD's effort has been to strengthen the Area Centres in terms of skilled personnel, management systems and proper infrastructure. Instead of investing our resources in establishing a centralised institution, a conscious attempt has been made to mobilise support for strengthening the decentralised institutions of AMS, i.e., the Area Centres, with the necessary infrastructure. This alone can ensure the continuing participation of the adivasi community in whatever way they can in our unique development process in line with our overall goal of self reliance. We thank the Japanese Government, especially the Consulate General's office in Chennai for facilitating this process.


Herbal Clinics
After spending almost one year on documenting the existing knowledge on herbal medicine systems among the adivasi community, researching on the health practices and enlisting the herbal practitioners in different villages, the next phase of our work on revitalising the local health traditions has been launched from February. Dr.Mahesh, the Ayurveda doctor has started regular Herbal Clinics in the Area Centres and at Gudalur Adivasi Hospital. A fixed schedule of such clinics at the AMS Area Centres has been decided and two rounds of such clinics have been completed in all the Areas.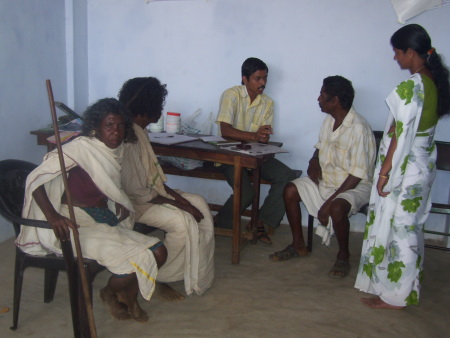 Dr.Mahesh and Geetha interacting with herbal practitioners in Erumadu


In these clinics, herbal practitioners are encouraged to come to the Area Centres to treat patients, to interact with Dr.Mahesh and to help document their knowledge and practices. It will take a few months before this schedule is widely known in all the villages and patients start coming regularly. These clinics will not be limited only to the Area Centres, but will also happen in the villages as well, wherever found to be appropriate and convenient.

The main aim of these herbal clinics is to bring back the health system which was locally prevalant in the area. This will also help the practitioners conserve this medical tradition which is also part of their Tribal identity. Through this programme, they are also educating people about conservation of ecosystem and sustainable use of the resources.

Another step that is planned during the next few months is to integrate these herbal clinics and the curative aspect of the herbal medicine programme with ASHWINI's community health programme.


Regular updates about our other activities are available in the newsletters of Ashwini and Just Change .
---
| | |
| --- | --- |
| © Copyrights : Adivasi Munnetra Sangam, Gudalur. | |