---
AMS demands implementation of Atrocities Act in Kottaimedu case
On 24th June, AMS held a big public protest demonstration demanding implementation of SC/ST Atrocities (Prevention) Act by the police and government authorities. Even though many incidents violating the human rights of the adivasis have been happening and AMS has been filing complaint after complaint, not even one case has been filed by the police against the violators till now. AMS decided to take this issue head on with the police on the recent Kottaimedu issue, demanding firm action by the police and to file cases under the Atrocities Act against the estate staff.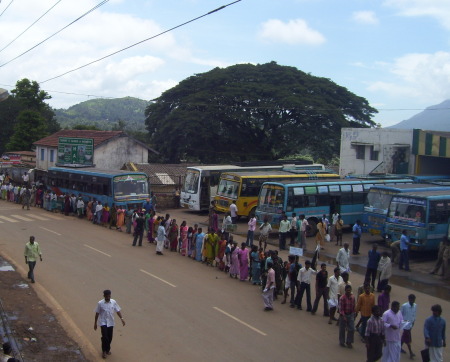 More than 750 people participated in the protest demonstration
This demonstration was in response to the incident in Kottaimedu village on 3rd June, when staff belonging to the MayField estate of Harrison Malayalam Plantation Limited went on a rampage. They tried to illegally evict the Kattunaickens who have been living there traditionally; demolished two houses, set fire to the thatched roof and dragged the women out of the house. All this happened in the middle of the night and was a clear violation of the human rights of the adivasis. And, an atrocity punishable under the Atrocities Act.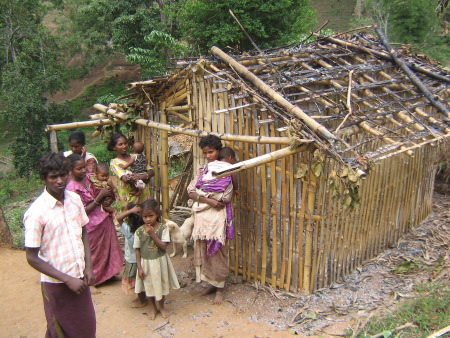 One of the houses on which the estate staff set fire
Kottaimedu people and AMS immediately launched a complaint with the police and other government authorities. But, in spite of repeated attempts, no action was taken against the violators. Even after waiting for more than 20 days, people were made to run from pillar to post seeking justice. Anger against this inaction from the police was building up in all the adivasi villages of Gudalur and this resulted in a big protest demonstration on 24th June in Gudalur town.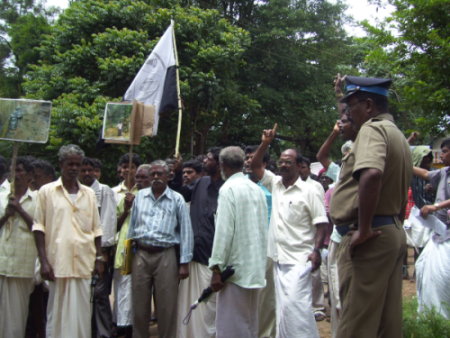 Procession wound through Gudalur town and the leaders effectively highlighted the problem
Lot of men, women and children participated in this demonstration. After going on a long procession through Gudalur town - shouting slogans and distributing pamphlets explaining the demand of the adivasis, people reached the Revenue Divisional Officer (RDO)'s office. The government authorities tried all the tactics to delay, postpone, divide and divert the focus. They even tried to reach a compromise, promising compensation etc. But, the people were strong in their single-point agenda : "Implement the Atrocities Act and file case under the legal provisions". In the absence of some concrete action from the government, people refused to budge and sat in front of the office for more than 2 hours.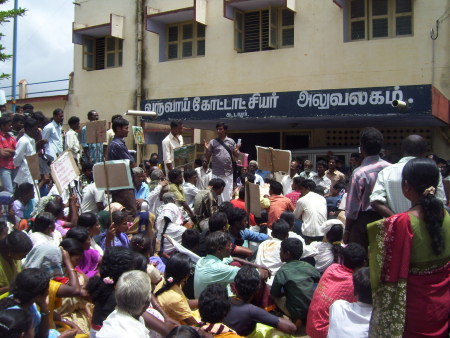 For more than 2 hours, the demonstrators staged a sit-in in front of the RDO's office demanding action
Finally, this forced the authorities promise a meeting involving the estate staff, different government authorities and AMS representatives within a week. This agitation goes to prove how hard one has to struggle to get law work. But, one thing is sure. This demonstration has created strong awareness about the Act and the failure of the government in implementing it in the spirit of the law. The struggle of AMS will continue till adivasis too enjoy equal rights as per our constitution and get protection from the law.

Gudalur Adivasi Hospital starts functioning in new building
On May 3rd, the new building for Gudalur Adivasi Hospital was inaugurated. It was a grand function in which over 1500 people from the villages participated. A slideshow showing glimpses of the inauguration function can be seen
here
.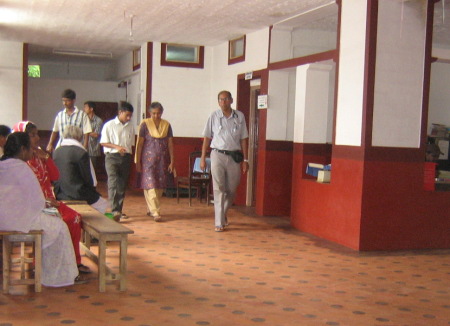 (

From right

) Doctors Nandakumar, Shyla, Mahantu, Mahesh and Manju
The new building is quite spacious, has enough facilities for the adivasi patients and to provide effective curative health care. This will help serve the ever increasing patient load and to address the changing health needs of the adivasi community.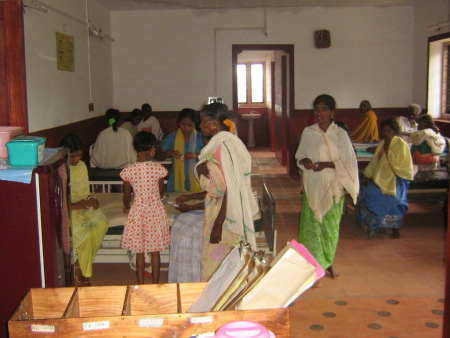 Adivasi patients in the new ward
The building has been designed taking into account possible future growth and the need to have specialists providing health care to patients. New batch of adivasi trainees has been selected and their training has also started, so that enough nursing staff are available in the different blocks of the hospital.

This is only the first phase of upgrading the infrastructure of our hospital. The next phase will involve construction of a separate Labour Room & Operation Theatre complex, residential facility for doctors, nurses and students. Currently, we are drawing up plans to start the next phase. We are proposing to approach the Japanese Consulate in Chennai for funding support for the 2nd phase of the project.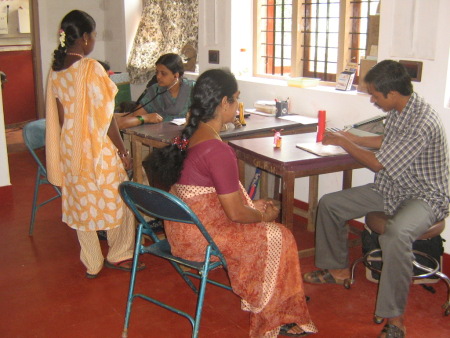 Dr.Mridula and Dr.Mahesh in the new OP clinic


We thank all those people who supported the construction of this new building and made this dream of adivasi community a reality.


NRTT's support to our Education activities
In 2000, we launched an ambitious education intervention programme covering all adivasi villages. The objective of this programme as articulated then was "To ensure that every adivasi child receives at least primary education and can easily pursue schooling to whatever level they desire, in an environment that is supportive and culturally appropriate."

Today, we can assert with confidence that we have come a long way in achieving this objective in a short span of eight years. The bar has been moved up by our adivasi community and now dreams are being dreamt. For the next phase of work, we have set the following objective now:

"
To ensure that every adivasi child completes schooling, not just to the primary level; that every child gets good education; that every child can pursue learning, (not only schooling,) to whatever level they desire and to provide the supportive and cultural environment for this with a more institutional approach
."
Sea change in the community's attidue towards education


From June 2009, Vidyodaya started this next phase of intensive intervention with the financial support of Navajbai Ratan Tata Trust (NRTT), Mumbai. In order that every adivasi child completes schooling and pursue higher education without dropping out at the higher levels, it is essential that the foundations are firmed up. To attain this goal the objectives set down are:



Quality Education



To empower the community to enter into the school arena and compel quality by becoming part of school committees, by forming education committees at the Area level to review the schools and by conducting village level educational programmes.

To train teachers and village level community educators who will ensure quality education.

To establish institutions at the Area level that are within easy reach of children and will be in the control of the community.

To continue with Vidyodaya school as a model one and to establish a High school with residential facility.

Vocational Skills Development
To provide students with counselling in courses and jobs available, training in the skills needed and support in placement or in setting up units.

Higher Education
To give those who would like to pursue learning the possibility to do so at the University level by providing them academic and financial support.

Conserving Adivasi Knowledge and Culture
To conserve and promote adivasi knowledge and culture and history by bringing these directly into school curriculum.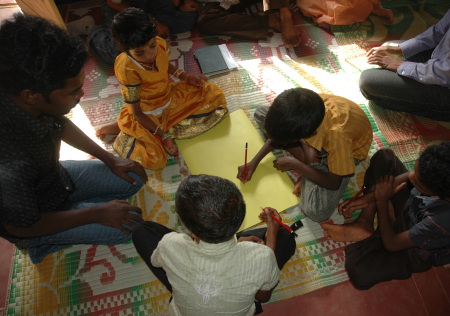 Making education relevant and interesting
As seen from these objectives, this is a long term plan. Adivasi community is now dreaming of taking control of the educational process. It is intervening at the Government schools and at the same time, attempting to initiate its own alternatives that can foster its values, its culture and develop pride and dignity in the generations to come. It has for long been at the bottom of the social, economic and political pyramid of this society, but now wishes to shirk off its feeling of powerlessness and hopelessness and assert itself
through its children
.
Area Centre Buildings coming up
In our scheme of things, Area Centres play a pivotal role. Hence, ACCORD has been mobilising and deploying resources (both human and financial) to equip the area centres, so that the multi-disciplinary adivasi area teams will be able to provide the services required by the adivasi community. And, the adivasi leaders are able to participate in the governance process more effectively.

Thanks to the financial assistance from the Japanese Consulate in Chennai, ACCORD has been busy building the Area Centre buildings during the last three months.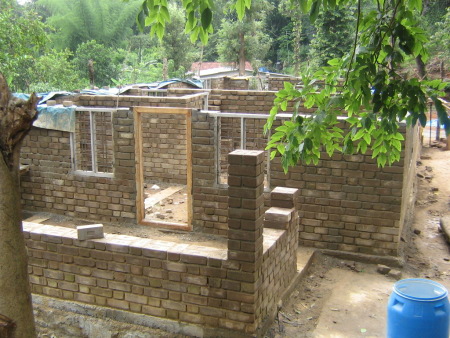 Gudalur Area Centre under construction


Construction work in Gudalur and Devala Centres has been going on quite fast. The current state of these centres is given in the photographs here. The rains are delayed and the area teams are busy completing as much of the construction as possible now itself. (We will worry about the water situation later!)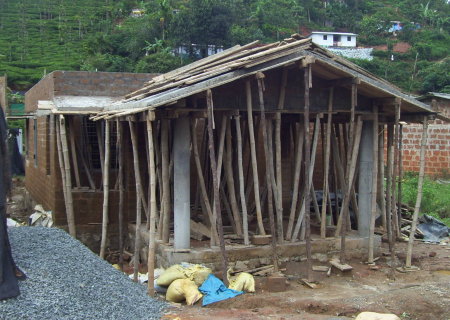 Devala Area Centre under construction


In Erumadu, things are a bit slow due to the time spent in clearing the site for construction. There too we hope to complete the foundation at least before rains. Soil Cement blocks have been made in Erumadu by the local adivasi men. There is scope to make this into a viable economic activity. We are exploring this possibility also.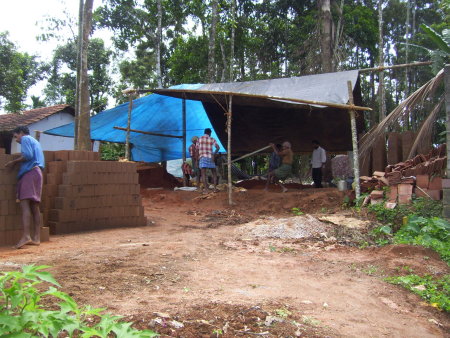 Soil Cement Blocks made for Erumadu Area Centre construction
Srimadurai area centre construction is also nearing completion. Construction of this building is being supported by ACCORD in Kanjikolli village just behind the existing building. Within a month or so, this new building will be inaugurated.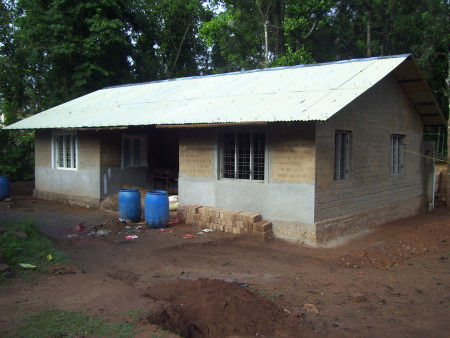 Srimadurai Area Centre under construction
This building was entirely constructed by adivasi masons and workers from Srimadurai and Ponnani areas.
For Devarshola area, about one acre land was purchased near Padanthorai few months ago. As a next step, ACCORD will raise funds to build a proper area centre building that can be used by the Devarshola Area team and surrounding adivasi villages.
Our team's visit to meet the German family
In May, four representatives from AMS visited our German family! Omana, Janaki, Velan and Krishnamurthi were invited by ATP to visit them and to attend the Church Day function. Here is a brief report of their trip in their own words:

"The ATPians and the families with whom we stayed were very warm and friendly. They took care of us very well and this made us forget Gudalur during the first few days. Everything from climate to culture, from language to lifestyle were quite different from adivasi life and it took some time for us to get accustomed to be in Germany.

The highlight of our visit was the construction of an Adivasi house in Germany near the Summer school. We stayed there for three days for this purpose. What appeared a big task initially became a completed project within 3 days of working with good support from the local ATPians and availability of materials whenever it was required. It was a nice feeling once we finished it and it also strangely coincided with the inauguration of adivasi hospital at Gudalur on the same day!"

Adivasi house in Germany - built jointly by ATP and AMS members
"Next important item in our itinerary was presentations at Schools, Universities and One world shops. All our presentations and lectures elicited a great deal of support and generated a lot interest to know more about adivasi life, culture, our problems etc. We also got an opportunity to sit in the class rooms along with students of various classes in the schools and universities. We saw a lot of people, including students working very hard to create awareness about adivasi life and selling adivasi materials like flute, tea, pepper, making tea and serving to others to raise donations for our project.

We also saw some young and old alike showing interest to come for the meeting at the old world shops. Some people even at their 70's working voluntarily without taking salary in these shops, some work for hours and others few days in a week etc. to sell the products and the profits thus generated out of this sale are distributed back to the poor people for their development."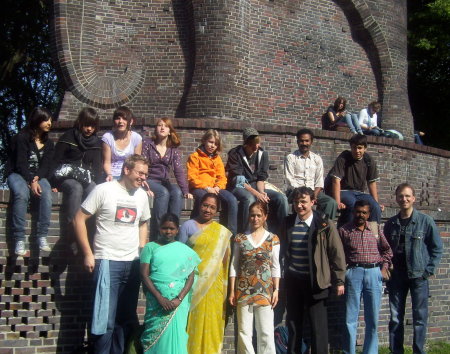 "The Churchday (Kirchentag) was nice, seeing so many people. We heard that about 3 lakhs of people had come for the Church Day which is one of the biggest events in their country. At the ATP stall, we met so many people coming to us and making enquiries about adivasi, tea, justchange, education, health, culture etc. Lot of those people drank our tea and bought things. We carried lot of memories from there and chating about it on our way back.

The group also wants to thank all those who made a lot of efforts to make this visit a memorable one. We were happy to know that the ATP members also were very happy with the way the visit went on."

One of the most remarkable achievements of AMS has been this longstanding relationship between adivasis of Gudalur and our supporters in Germany. This is unique and against heavy odds, we are able to continue this partnership. We are grateful to everyone who are working for this.