---
AMS Calendar on Honey Collection
New Year Greetings from Adivasi Munnetra Sangam!

We are very happy to present the design of our 2010 calendar. This year's calendar focuses on the traditional honey harvesting by Kattunaicken tribe. Through this calendar, we are reiterating the symbiotic relationship between the adivasis and the forests; we celebrate the fact that the role of adivasis in sustaining the forests has been finally and legally recognised by the society and the Government, in passing the landmark legislation "Forest Rights Act".


We hope that this year's calendar will help raise awareness about this issue and strengthen the campaign of the adivasis.

Thanks to all our friends and well-wishers. We wish the very best to all of you for a prosperous 2010.
FRCs, EDCs ... new governance structures with adivasi leadership
The year 2009 was quite significant in an important aspect. Till now, the governance structure of AMS had largely remained outside the Government-promoted local governance of panchayat system. With majority-oriented electoral politics, AMS had decided not to participate in the panchayat elections till now. But, with the Forest Rights Act came the possibility of forming gram sabhas and committees that are exclusive to the adivasi villages, but are still recognised by the Government and the Panchayat system. So, AMS spent all its energies in making these a reality.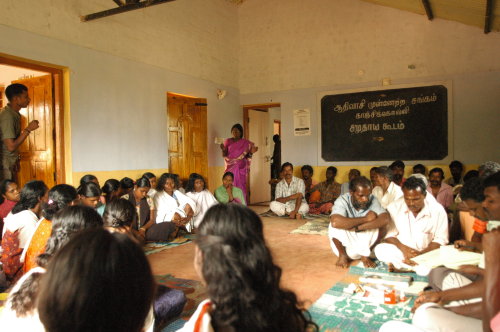 Adivasis constituted FRCs covering all adivasi villages
Till date, 29 special Adivasi Gram Sabhas have been formed covering all the adivasi villages in Gudalur and Pandalur valley. AMS leaders and activists worked closely with the government administration and the elected panchayat system while forming the gram sabhas and the Forest Rights Committees (FRC). Training programmes were organised for the elected FRC members and highlights of the Act and procedures were explained to everyone.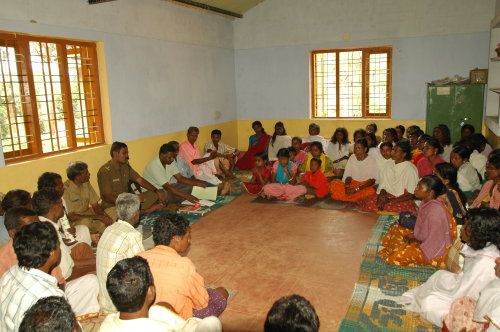 Forest Officials invited for discussion in an EDC meeting
The other important initiative was to form Eco Development Committees (EDC) in adivasi villages adjoining the Mudumalai Tiger Reserve. Three EDCs have been formed till date with active participation of the forest officials. This is a major shift in the relationship adivasi community had with the forest department. This is borne out of the recognition that adivasis are crucial to the conservation efforts of the government. More than Rs.2 lakhs have been mobilised for development activities through these EDCs this year.

We hope to build on this initiative during the next year as well and establish a strong governance system at the village level.

Adivasi Teacher Training Programme launched
During the last couple of years, Education is slowly emerging as the top agenda of AMS and is repeatedly becoming the most important issue of the adivasi community. From merely being satisfied with enrolment and attendance of children in schools, we are now focusing our attention on the quality of education received by the children. To pursue this thrust meaningfully, the community needs good teachers who can help children get good quality education.

There are over 2700 adivasi children studying in various Government schools. Statistics show that many children are dropping out of school from class 6 onwards. The only reason is that their foundation in most subjects is very weak and that they find it difficult to make up after moving into higher classes. We therefore decided to start an intensive teacher training programme, to equip at least one or two persons in each village who will help children in their subjects up to class 8 level.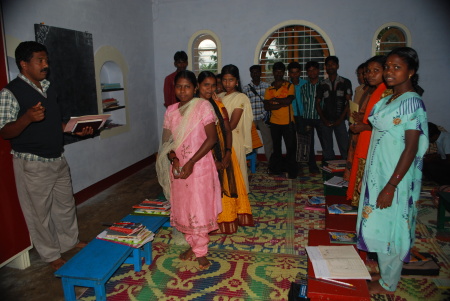 Adivasi Teacher Trainees with Surendiran
They would be able to

conduct evening classes in the village
take week-end classes at the area level
teach full time all drop-out children and help them appear for the A or B levels of the National Institute of Open Schooling.
make the parents aware of their child's learning levels and advice them about the best options for their child.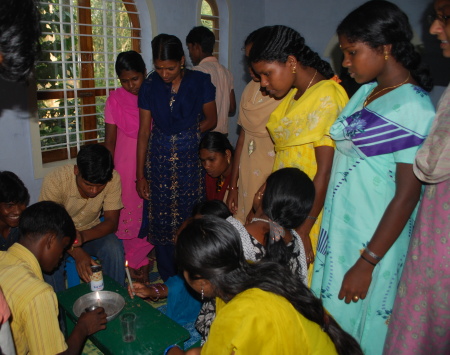 Teacher Trainees doing a science experiment
Vidyodaya has launched this new Teacher Training Programme from October. 18 adivasi boys and girls have been identified representing all the eight Area centres of AMS. A comprehensive two year training programme has been designed and planned along the lines of a Diploma programme.

It is a residential programme and all of them are staying in the School itself. Their training includes subjects like Maths, English, Science etc., child psychology, arts and crafts, institutional management, teaching methodologies and general knowledge.

Teacher trainees visiting Molapalli village

They are also exposed to various other community issues like the history of AMS and current challenges faced by the adivasi community. Periodically, they visit other villages as a group and discuss education related issues with the village sangam members.



We hope that we will have a committed and qualified pool of teachers at the end of this training programme.




Burial Grounds of Adivasis under threat
Burial Grounds and Sacred Groves are too important cultural symbols of adivasis that are constantly under threat from non-tribal communities. Without any sensibilities to the cultural traditions of the adivasis, their burial grounds and sacred groves in many villages are getting encroached by non-tribal people, often leading to confrontation.

Recently, in Kottamangalam village near Erumadu, a dispute has arisen about the burial ground of Paniyas there. From time immemorial, paniyas of this village have been using this burial ground to an extent of 1.47 acres. But, suddenly, there is a claim over this from non-tribals of that region. Typically, as a sign of the accomodating attitude of adivasis, the Paniyas of that village are willing to even assign upto 47 cents to the others and keeping only 1 acre with them. But, this nice gesture is not reciprocated by others and they want at least half of the existing burial ground.

AMS has also collected the legal status of all the burial grounds in the Pandalur taluk and the details of revenue records pertaining to these burial grounds under the Right to Information Act. This information was used while representing the rights of the adivasis with the Government authorities.

Four rounds of consultations with the revenue officials from village to taluk – even with the Revenue Divisional Officer have not yielded any result. Now, AMS has submitted a representation to the District Collector, urging him to resolve the dispute as soon as possible.

The leaders and youth of AMS are determined to highlight this threat to their culture and tradition and to resist any attempt to take over such lands.

Adivasi crafts people turn a weed into beautiful furniture
One of the positive developments of forming an EDC in the Chembakolli village was the establishment of a furniture making unit using the weed Lantana. Forest officials managing the Mudumalai wildlife sanctuary were worried about the dangerously spreading Lantana weed. Conservation activists associated with the
Shola Trust
came up with an innovative proposal to make furniture from this weed. They arranged a 15-day training programme inviting another adivasi craftsman from Karnataka. ACCORD supported with another 15 days of this training.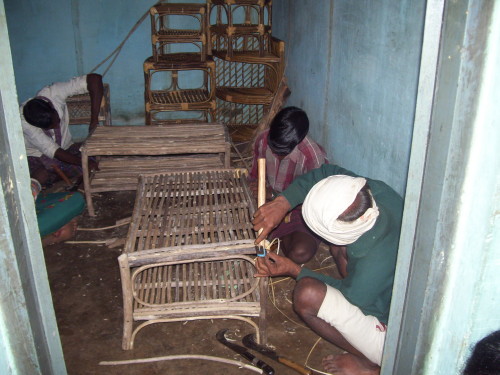 Lantana furniture being made
16 adivasis from Chembakolli village participated in this training and have become experts within a period of 3 months in making beautiful furniture. The products made by this unit varied from chairs, sofa, dining table, teepoy, book shelves, baskets, stools etc. On the one hand this initiative results in clearing the forest of this dangerous weed. On the other hand, this has resulted in a livelihood opportunity for the adivasi families. As adivasis are naturally gifted with crafts-related skills, they picked up the nuances of this craft very easily.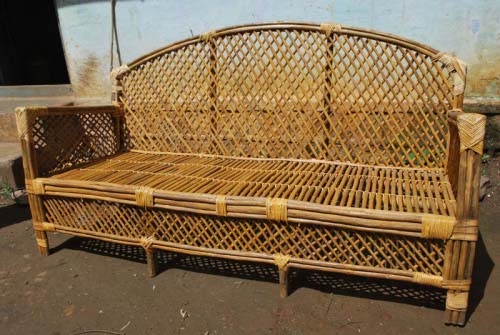 Sofa set - A finished lantana product
This team participated in a Bio diversity festival at Kotagiri organised by Keystone Foundation. There was a good response for these furniture in that exhibition. Prices of these products can be quite competitive compared to similar cane furniture. Many people have come forward to support in terms of design inputs. The specifications are also being standardised based on the feedback received from customers and the prices have been worked out.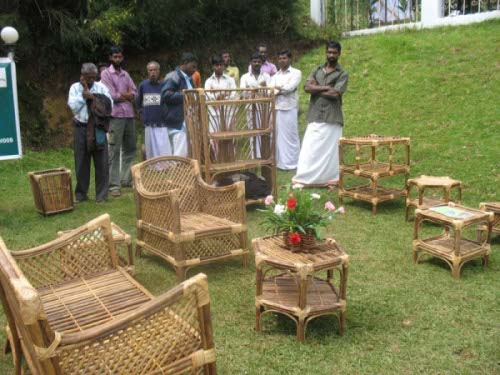 Lantana furniture displayed in the Bio diversity festival at Kotagiri
However, the crucial thing right now is to market them on a continuous basis and ensure production / delivery in line with orders received. Services of the
Shola Trust
team are being utilised in this aspect right now.
Eco Conservation Project in Madhuvana Estate
ACCORD launched a conservation project called "Regeneration of traditionally used indigenous species to reduce pressure on the Mudumalai Tiger Reserve" from October with the support of Ashoka Trust for Research in Ecology and the Environment (
ATREE
), Bangalore under its CEPF Western Ghats.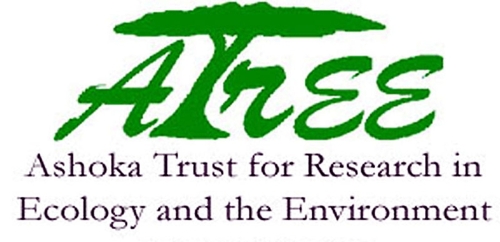 This project aims at setting up a nursery of indigenous tree and plant species that are traditionally used by the adivasis, for them to propagate in the Buffer Zone of the Mudumalai Tiger Reserve. This will include medicinal plants, fast growing indigenous species (for fuel wood) etc. This will reduce their dependency on the core zone and allow for it to be an inviolate space. In addition to this, an attempt will be made to also propagate a few endangered plant species that are not extensively used by the community, but are useful from a conservation angle.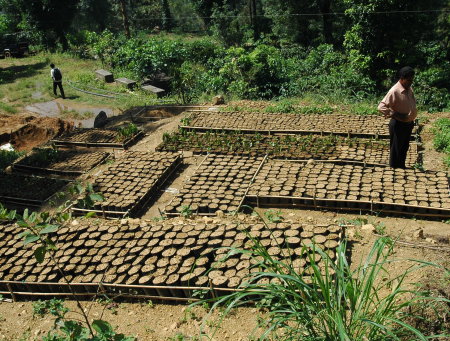 Nursery for indigenous plants species is getting established
We plan to set up this nursery in ACCORD's Madhuvana estate. Currently, a shed has been constructed for the nursery and more than 20000 bags have been filled. Saplings and seeds are being collected from the local area, nearby forests and from adivasi villages. The main focus of this project will be to distribute these plants to adivasi families so that they can ensure conservation of these important tree species. Some of them will also be planted in Madhuvana estate and an ethno-medicinal garden will be established within a year.
Vidyodaya School moves into new Building
With the number of students studying in Vidyodaya school increasing and with the new Teacher Training Programme, we found the space available in the old school building was quite limited. So, when the hospital shifted to a new building in May, it was decided to move Vidyodaya school to the old hospital building.
We approached the Charities Advisory Trust, UK and the Tzedakah Trust of the Green Hotel, Mysore with a proposal to utilise the interest amount earned from the Corpus Fund of Rs.20 lakhs provided by them for constructing a new school building. We are thankful that they agreed and the money was used to modify and repair the building to suit the purposes of a school.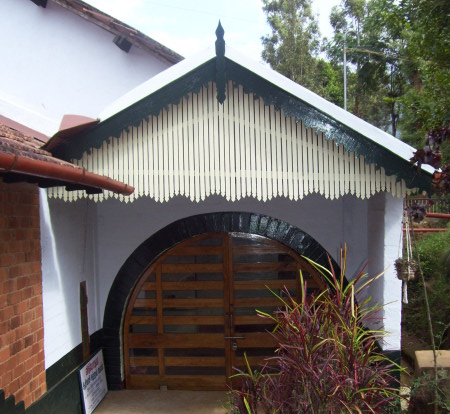 The beautiful entrance to the new building
In the words of the children, "Our new school is big and spacious. It is very nice. We have one big assembly hall. And, we have a large area for the library. We can sit comfortably and read our books. It is easy to pick our books and read. Puzzles and games etc. are also kept out; so it is easy and nice.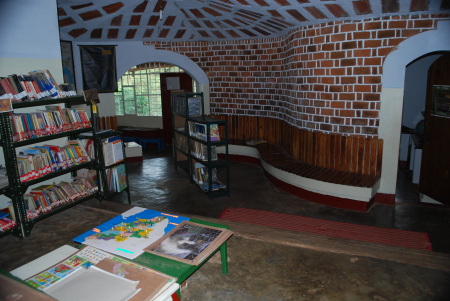 Library area in the new building
We have many classrooms in the new building. It is nice to have lot of space in each classroom. There is lot of light and space in the classrooms, which we like.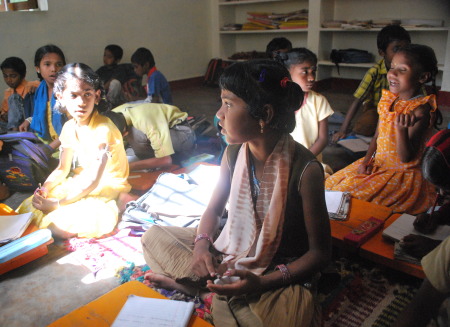 One of the classrooms
The teachers too have a nice big Teachers room. The only problem is that we do not have a good ground right now.

A heartfelt thanks to the Charities Advisory Trust and the Tzedakah Trust of The Green Hotel for making this possible and enabling us to have such a lovely school building. We invite you to visit our school whenever you come to India next."